*****Our kits are custom cut after your order is placed-please expect up to a 2 week production time for your oder. Thank you for your patience.*****
Who We Are
Hearthside Quilts has been creating high-quality, pre-cut quilt kits for almost 40 years. What began as a mail order company in Vermont, is now an eCommerce business located in Virginia. Whether you're a first time quilter looking for a new creative outlet or a seasoned quilter with well worn thimbles, you'll find a wide selection of precision die-cut quilt kits to choose from.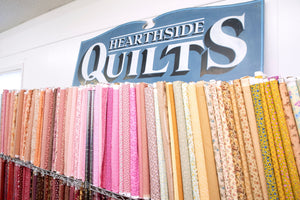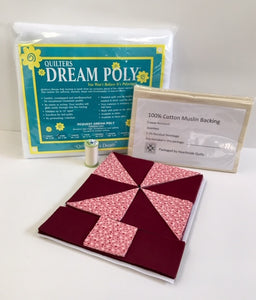 What's in the Box
Our kits are cut to order and not mass produced. Each kit is unique. No two kits are alike. Our kits come COMPLETE with everything you need to finish your project including die-cut top pieces, batting, muslin backing, and thread, plus easy to follow instructions. Our fabrics are 100% cotton. Want a color combination not offered on the website? Call us for a custom kit!
Hearthside Sampler
Our beautiful namesake Hearthside Sampler pre-cut kits make absolutely breath taking quilts. The pieces sew together quickly and easily into 15 different 12" square pattern blocks plus 15 of our 12" connecting blocks for a total of 30 blocks. Calico patterns can vary from those shown due to changing availability. This pattern is also available as our Block of the Month Quilt.